Our Collection
The Collection
Owner Ken Thwaits has been a Chevrolet Camaro fanatic since his early teens.

In 2013, he started searching for the perfect collector Camaro and ended up with 25 swoon-worthy models.

Since inception Chevrolet has produced five generations of Camaros. We have assembled an enviable collection with something for everyone – from investment level stunners, to fun, street-ready Camaros – representing all five generations.

We proudly display our collector Camaros in Franklin, TN for those who wish to see them up close and personal.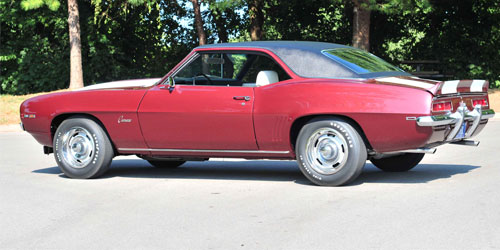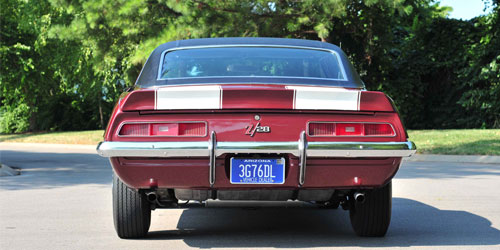 Title of Car:
1969 Camaro JL8
Nickname of Car:
JL8
Specifications:
1969 Z28 Camaro JL8
Other Info:
The single most unique and valuable car in this collection is the 1969 Z28 Camaro JL8. What is special about this car is the JL8 code was a four wheel disc brake option you could order from the factory. They only built 206 of these cars so it is a very rare car. Because most of the SCCA Trans Am racers bought these cars and raced them, a lot of them got destroyed, bent or modified and disappeared throughout time. So there are not very many of them out there. It's got its original burgendy color with white strips.
It's a beautiful build. It has matching numbers transmission and rear end. It doesn't have a numbers matching engine because the engine had an oil pressure problem with the original owner, so he took it back to the original dealer in Boise, Idaho. That dealer then replaced the engine out of that car and we have that document. There is no serial number on the engine, they just replaced it in those days and threw the original one back in the rock pile behind the dealership.