Our Collection
The Collection
Owner Ken Thwaits has been a Chevrolet Camaro fanatic since his early teens.

In 2013, he started searching for the perfect collector Camaro and ended up with 25 swoon-worthy models.

Since inception Chevrolet has produced five generations of Camaros. We have assembled an enviable collection with something for everyone – from investment level stunners, to fun, street-ready Camaros – representing all five generations.

We proudly display our collector Camaros in Franklin, TN for those who wish to see them up close and personal.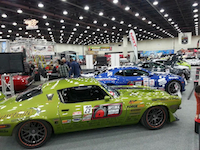 Title of Car:
1973 Chevy Camaro
Nickname of Car:
Envious
Other Info:
LS7 assembled by Wegner Automotive (Markesan, Wisconsin). Wiseco 11:1-compression pistons and Callies connecting rods and crankshaft comprise the rotating assembly. COMP pushrods, roller lifters, and custom-ground cam and RHS LS7 heads are the prime time players in the top end. ARP fasteners button up the ensemble. A FAST 102mm LSX R intake ensures proper fuel/air distribution and FAST 52-lb/hr injectors distribute the offerings delivered by the GM ZL1 fuel pump. Spent fuel makes a rapid exit via 1 7⁄8-inch long-tubes and 3-inch chambered Stainless Works X-pipe.

Read more: http://www.superchevy.com/features/1404-1973-chevy-camaro-green-with-envy/#ixzz3fEn1vs25