Our Collection
The Collection
Owner Ken Thwaits has been a Chevrolet Camaro fanatic since his early teens.

In 2013, he started searching for the perfect collector Camaro and ended up with 25 swoon-worthy models.

Since inception Chevrolet has produced five generations of Camaros. We have assembled an enviable collection with something for everyone – from investment level stunners, to fun, street-ready Camaros – representing all five generations.

We proudly display our collector Camaros in Franklin, TN for those who wish to see them up close and personal.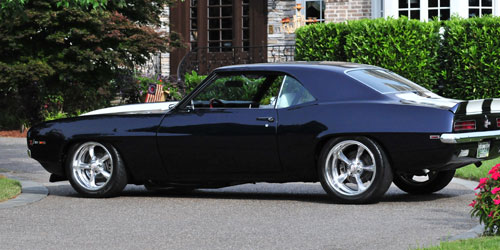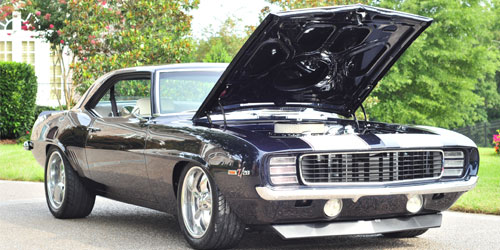 Title of Car:
1969 X33 Z28
Nickname of Car:
X33
Specifications:
1969 Camaro X33 Z28
Other Info:
This is our 1969 Camaro X33, and it's actually a build code that they had on the tag when it was first built, so it's a true X33 car. It's a Z28 rally sport with the headlight covers. It's a very dark blue, and just a beautiful car. We detailed the engine, so it's got a 383 stroker in it, and made it in such a way that it has a tastful black as well as chrome accents in it. The interior has a rosewood steering wheel and Houndstouth interior like you can buy in the factory. It's lowered in the front and lowered in the rear. It's not stock by anymeans and it's really fast. Sounds really good and looks really mean in it's stance.